Add Comment
I am always looking for new ways to cook eggs. Those of you that know me, know that I have an over abundance of eggs from my five little hens.
So as I was watching this video of 7 Awesome Waffle Iron Recipes I thought it really can't work or be as simple as the video showed.
You know how it is now a days, you can't believe everything you see or hear on the interwebs… :)
So I decided to give it a go and see if it does what the video shows.
If you don't want to read the rest of this post then here is the spoiler, Yes it worked! Yes it was easy! And OMG, the eggs could not have been tastier or fluffier.
So how did I do the test?
Simple, to start I took out the waffle maker, plugged it in to warm it up, sprayed a little non-stick spray for good measure.
Then I added my two eggs that were beaten with a little milk and I added my fresh Egyptian Walking Onions to give some extra zing!
Closed up the waffle maker, flipped it and let it set for 3 minutes. The video said 3 – 4 minutes, but since I pre-heated it I thought less would be better.
Sure enough I was right!
3 minute timer and look what I have, fluffy, golden, delicious scrambled eggs that look like a waffle.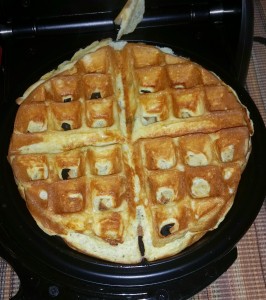 Would I do this again? Absolutely! Just look at the final results…
Here's hoping you give it a shot and they turn out just as good looking and delicious…
If you are interested in the waffle maker I used it is a very simple, inexpensive one I found on Amazon. (Affiliate link)
Let me know in the comments if you tried this and how it turned out. I am always excited to hear how others made out with a recipe.
---
( If you are reading this anywhere but my blog, you can find the original post here. )