Add Comment
So I have this new toy from Christmas that was given to me by my parents that I can't seem to stop playing with.
A Crockpot!
I have been making all kinds of food in it and today I decided to experiment with making a cake.
Who would have ever thought that you could make a cake in a Crockpot, but low and behold it works!
There are many recipes online and they all vary so I just tried what I thought would work.
I took the easy way out and bought a box of Betty Crockers Devils Food Cake mix so I didn't have to start from scratch.
This made it way easier to get er' done.
For the cake mix you need:
1 Cup of water

1/2 Cup of oil
3 Eggs
Box of cake mix
Simply mix all the above ingredients together in a mixing bowl and beat with a mixer on medium for about 2 – 3 minutes until smooth.
Be sure to spray the inside of your Crockpot with Pam non-stick spray so that the cake will pop right out when finished.
Add your cake mix to the Crockpot and set it on low.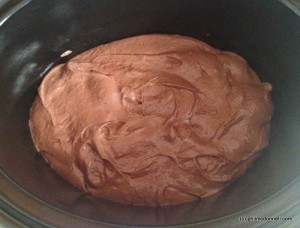 I was following a recipe from somewhere else and they said to cook for 3 hours. It didn't seem done at that point so I added another hour which made it better but I would suggest even adding another hour to make the cake much more firm.
After you cook your cake for the 5 hours on low you should turn it off and let it site for 1/2 hour before trying to remove it.
I took a dinner plate and place it over the Crockpot and flipped the Crockpot upside down so the cake would plop right out onto the plate. Sure enough it did perfectly.
I took another dinner plate and place it on top of the cake which is now upside down so I could flip it right side up.
Here is what the final cake looked like.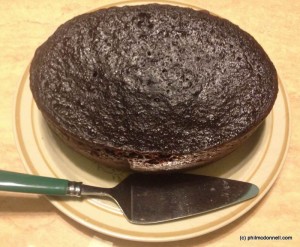 It tasted great, but like I said could have been cooked a little more. 4 hours on low wasn't enough for me, next time it will be set for 5 hours.
Have you done any slow cooker cakes or desserts? Let me know in the comments below.
(This post may contain affiliate links)
---
( If you are reading this anywhere but my blog, you can find the original post here. )