Add Comment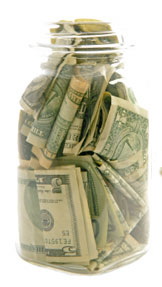 I know the holidays have just come to an end and you probably just put away your decorations.
However, it is never too early to think about next Christmas and start saving early.
I saw an image posted on Facebook the other day and it made perfect sense to me to use something like it to save for next holiday season.
The premise is simple, you save a little bit each week and at the end of the year you will have over $1,000 ($1,378.00 to be exact) to spend frivolously on your loved ones!
No pain involved… 
Well maybe a little pain depending on how stretched your budget is.
It starts out simple, put $1.00 away the first week and then on the following weeks you would put away one extra dollar from the week before.
It goes basically like this: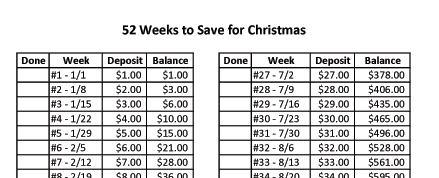 I am sure you get the idea and if you look at it, it doesn't seem so bad. Well not until you get to the end of the year and you are scraping $52.00 for the last week. :)
To save the money you can just make an envelope and put your money in it weekly if you a disciplined enough not to touch it. Or you could put it in a separate bank account or your savings account.
I have an ING Direct account and they allow you to setup multiple savings accounts, so I set one up just for this.
It is not super simple to get your money out so you will have less of a chance to dip into your holiday fund. You have to transfer the funds to your primary checking account and wait for the transfer, not as simple as an atm card or opening the envelope in your dresser drawer.
Whatever way you choose to save start now as we have already passed the first week and are rolling on the second.
You can download either a PDF version or an Excel Spreadsheet version of the full chart pictured above. The Excel version is fully customizable in case you want to change anything.
I have my $3.00 saved already, how about you?
(This post contains affiliate links)
---
( If you are reading this anywhere but my blog, you can find the original post here. )