Add Comment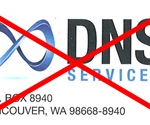 I can't believe that in the last two days I have received this notice from two different clients. This has been going on for years and it seems that the scammers just change their name but mostly everything else stays the same.
If you look back in my archives you will find this post from 2008 explaining the scam that was going on then.
So now the scam is to send what appears to look like an invoice for your domain services.
They make it look like they are providing backup DNS services even though they are doing no such thing! Look at the first red circle in the image below, it clearly states inactive!
And if you dig a little further into the invoice it does state that it is a solicitation,  but they bury it in with all other text so you skip right over that part.

Then at the very bottom in very tiny print they state:
DNS Services Inc. is not affiliated with your current name server provider.
So if you receive one of these please please please do NOT pay them!
There is plenty of others speaking out around the web and the Better Business Bureau has 106 complaints against this business with no response from the business.
You can see the BBB file here: http://www.bbb.org/oregon/business-reviews/internet-services/d-n-s-services-in-vancouver-wa-22720940/complaints
There are others also crying foul like Webutation and ripoff report.
Lastly the service they are offering is more than likely an unnecessary service because your hosting provider more than likely already has redundant DNS servers for your domain. I know my company does!
If you have any questions about this or you are concerned about your domain and DNS servers please don't hesitate to contact me.
I would like to thank my clients for bringing this to my attention so I can share it with you.
Have you received one of these notices? Let me know in the comments below.
---
( If you are reading this anywhere but my blog, you can find the original post here. )