Add Comment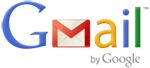 I have been doing this for quite a while now and it works flawlessly!
Many people always think that it can't be done or just don't know how to do it.
Well today I am going to show you just how easy it is to send mail from your own domain name using Gmail.
It is hard to setup right?
Wrong! As a matter of fact it is super easy! If you have a Gmail account setup already then you are good to go…
First step is to obviously login to your Gmail account.
Once in click on the gear icon on the top right and select settings.

Once on the settings page you need to click on the 'Accounts & Import' tab.

Then on this screen you will see a section called 'Send Mail As'.

On this screen you want to be sure the 'When replying to a message' radio button is set to 'Reply using the same address the message was sent to'.
What this does is tell Gmail when you click the little reply button it should automatically select the account that the email was sent to, not your gmail email address.
Also on this screen you can choose what account you always want to default to when sending mail. You could leave the Gmail account as default or choose any of the others.
Ok so this seems simple enough, is there anything else?
Well you DO have to setup the email accounts to send from within Gmail!
It's not hard, just follow the four simple steps below and you will be sending mail in no time.
From the Accounts & Import Tab that you selected above, click 'Add another email address you own'. A new window will open with the following screen: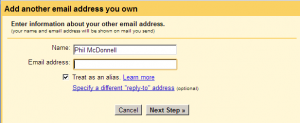 Add your name as you would like it displayed as your return address and add the email address you are 'sending' mail from. Leave 'Treat as an alias' selected and click Next Step.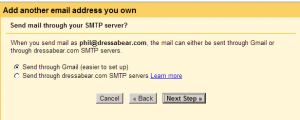 You will want to leave 'Send through Gmail' selected as it is the easiest and nobody will ever know unless they look at your full mail headers. The click Next Step.

Google will send a verification email to the address you entered above to prove that you in fact own that address. Click Send Verification.

Once you get the verification email you can click the link in it or copy/paste the verification code and click Verify on this window.
That's all you need to do to send mail from a different account/domain using Gmail.
But wait how does my mail get to Gmail from [email protected]?
Glad you asked…
I am not going to get into forwarding and each control panel here, maybe another post might be necessary for that. But for now all you have to do is set a forwarder up  at your host where your domain name is currently setup to receive mail and forward it to your main Gmail account.
So for me it goes like this:
phil @ philmcdonnell .com  – – >  pmcdonnell @ gmail . com
Pretty simple really…
But how do I know what email is what in Gmail's inbox?
That is super easy, you can create a rule/filter that labels each email so that it will visually show you what email address it was sent to. I will do a separate post on setting up filters/rules to accomplish this.
Here is what the labels look like in my inbox for different email accounts:


I hope this helps some of you in organizing your email and having it all in one place to make things easier for yourself.
The benefits are endless to this system. Gmail works with any browser, there are apps for all smart phones & tablets. It is just a seamless way for you to tackle your inbox.
If you have any questions please feel free to ask in the comments below. If you would like help setting up your Gmail and other domain email accounts please contact me.
---
( If you are reading this anywhere but my blog, you can find the original post here. )