Add Comment
Those of you that know me know that I have a huge love for animals, sometimes even more so than people.
I have always volunteered time to help rescue groups but the work I did was all virtual, creating websites, helping with social media, donating money, etc.
I did volunteer at my local animal shelter for a while but I really didn't feel like I was doing anything of value there. Of course the cats and dogs probably enjoyed my company but I really wanted to do more.
So last week I decided to get physically involved with helping these rescue groups. First on Saturday I went to a horse farm rescue and spent several hours helping out, let me just say that it was a GREAT experience to interact with the horses directly. I am sure I will have a post about that soon.
On Sunday I was scheduled to take part in a rescue transport. If you don't know what a rescue transport is, it is a bunch of volunteers that all agree to transport an animal from one place to another.
Sounds simple no?
Actually it takes a lot of work to figure out the "legs" of the trip and then to pull it all together to find and schedule the volunteers for each leg. I give the coordinators of these transports so much credit, they work tirelessly to get these animals to safety. Most transports are to move animals from kill shelters to rescue groups, foster homes or even forever homes.
Early Sunday morning I woke up and woke my Son up as he wanted to go with me. (I am sure he really didn't want to go with me, but he wanted to see the three puppies I was scheduled to pick up)
I made my cup of coffee, loaded the car with some supplies in case the puppies needed water, and off we went.
We drove about an hour to our pickup spot and waited to meet the previous leg volunteer. We waited about 10 minutes as they were right on time. We transferred all the paper work on the dogs and then we transferred the dogs themselves.
Can you say CUTE?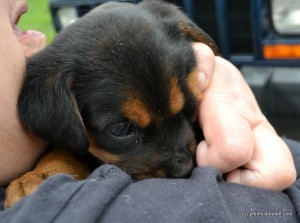 So after I picked them up I proceeded to the destination of my leg to drop them to the next volunteer.
All and all it was a great experience and one that I will be doing again, as a matter of fact I am already scheduled for this Sunday :)
Just so you know these three fur babies are available for adoption, if you are interested please visit Out Of The Pits and click through to their PetFinder page, or click each image above to be taken directly to that dogs page.
Have you ever done a rescue transport? Share your story in the comments below.
---
( If you are reading this anywhere but my blog, you can find the original post here. )