Add Comment
First let me just say I was inspired to try this after reading a blog post about doing just this over at Three Kids & Us. I just stumbled upon Cat's blog and found so many interesting posts. If you are into home and garden, are raising children or just like some cool give a ways stop on by and check out her blog.
So after reading her post I decided to give it a shot. My son watched me try to make iced coffee without using a K-Cup.
If you don't know what K-Cups are, they are the pre-packaged, pre-measured cups that fit inside a Keurig style coffee maker.
The machine I have uses K-Cups or it has a metal screen filter that is washable/re-useable. I decided to give it a try with just standard coffee from a can and the filter.
I didn't really know if it would work but decided to give it a shot. Those of you that know me, know that I usually am willing to try anything at least once.
So I went ahead and filled the filter with my coffee, turned the machine on and then proceeded to fill a drinking glass with ice. Let me just say that both my Son and I were a little scared to press the brew button thinking that the cold ice and the hot water would cause the glass to explode.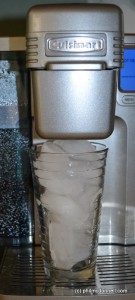 Well I am happy to say that did not happen, however I did select too big of a brew size and my cup would have overflowed except for my fast thinking to rip it from the machine before the brew stopped.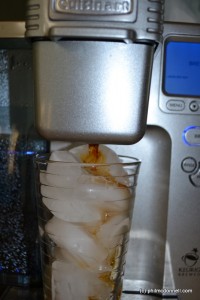 After we both stopped laughing at my mistake I took some ice cubes out because the cup was just too full for anything else to fit. I like milk in my coffee and in iced coffee I need at least 1 teaspoon of sugar.
So I added everything to my liking and did the taste test…
It was absolutely GREAT!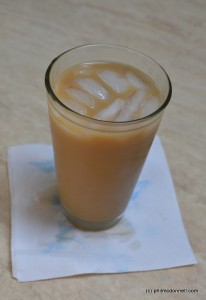 I now can make my own iced coffee at home with ease. I never thought about making iced coffee before I read the post about it.
If you don't have one, I recommend and LOVE my Cuisinart Single Serve Brewing System
.
If you do have a Keurig type machine get to it and let me know how yours turned out by leaving a comment below.
---
( If you are reading this anywhere but my blog, you can find the original post here. )